"Tim, what do you mean by 'brand performing packaging' in your Food 101 presentation?" This question and quick Bullfrog example will help you win new consumers and grow sales. Working on projects with Disney starting back in the 80's had me in Florida often and most of the time I was lucky enough to bring my family. We discovered a product that has been important to our family for many years and with interest I have watched the packaging change from the original generic bottle to a brand package champion.
This product and its evolution into a brand champion offers an example of how you could consider your packaging in a more creative and focused manner for your companys profits and growth. This product is currently only about 5% of category sales in its respective $500 US million category and is not the category brand leader. It must find methods to gain attention and new consumer trials along with keeping current consumers loyal to the brand.
When I discuss and review packaging like the client projects for Hershey's or Hain Celestial there is a tremendous amount of information to organize and consider. Packaging projects force decisions on best methods to deliver value to your consumers. Done right, this involves a myriad of questions on consumer values and needs. The below questions and comment are always of benefit when considering packaging options: 1. How can your packaging increase sales and improve net profit? 2. How does packaging relate to the "consumption of your product?" 3. Create 'Brand Performing' competitive packaging. (we will see our example at the bottom of post!) 4. Is your web and contact information on package for potential new customers and consumers? 5. Investigate successful packaging on your potential customers shelves. In 1985, BullFrog® Sunblock, considered the first all-day waterproof sun protection, was sold by Oceanside Laboratories and fellow UGA alum to a company in Chattanooga, Tennessee. The new owners focused on growing the brand and awareness with consumers for bigger sales and profits.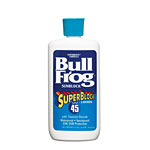 They were looking for bigger sales and introduced a bigger bottle. The product lasts all day in the water and they continued with this theme and basic product formulation for many years. We continued to purchase and enjoy and I was pleasantly surprised with the new larger size for our family. The brand logo on the label did grow with the size growth of bottle. Also, with new larger bottle it garnered additional attention at retail.
The Bullfrog Sunblock owners enjoyed revenue growth and additional sales for many years and recently have introduced their biggest most creative packaging options for Bullfrog in its history. Several neat componets of the new package: Instant Drying since it is now in a spray pump bottle. The pump even works when you hold it upside down and use on your legs! They added insect repellant which seems great but for our family we just use the Sunblock. The bottle has a new easier to grip shape when applying the Sunblock. It is less slippery with the raised bumps on the side. The photo shows the new bottle and comments below on changes:
This Bullfrog Sunblock bottle is a brand building champion. The key to this package is that it ties the brand theme into the componets of the package. The
shape, color, stippling, engraving, feel of the bottle in the hand
– all give the impression of "Bullfrog." The package accents market identity and brand to consumers on many levels beyond the sticker that first labeled the generic bottle. The various applications, improved package benefits to users, and look and feel of the package provide stand-out brand building enhancements that you can use as examples and ideas in developing and formulating your next product package design. Send me a note and we can discuss how the original generic bottle caught my attention to begin with prior to all of these changes. They are lessons you can use with your current packaging in place and prior to future packaging upgrades.